Latest Articles
Hello from good ole NC
Just wanted to introduce myself before I start asking 9 million questions lol.
I grew up in the towing business and have had a passion for anything related. I have hauled equipment, barns, generators, really old farm equipment in the past and all types of cars such as classics, high end, and even the big stuff box, bucket, day cabs etc. 3 yrs back I decided I wanted to learn about the car hauling business and got in with a local dealership running a Ram 5500 crew with a Hodges 3 car set up ( o ...
First day of vacation
[url=http://gallery.myff.org/gallery/1997892/image.jpeg][img]http://gallery.myff.org/gallery/1997892/image.jpeg[/img][/url]


600 miles the first day, and noticed our wheel seal is leaking. Sitting in a motel near Kansas City, MO for 3 days, waiting on an axle surgeon to get to us. As you can see from the next picture the spindle is damaged. In the groove where the wheel seal sits my (former) mechanic tried to repair the area with J B Weld. Now I know why he d ...
Factoring Companies
I'm considering using a Factoring company for my invoicing and collections. Are there other HS companies using this type services? If so how do I determine which company to use and the pros and cons associated with a Factoring co. Thanks in advance.
Insurance Coverage Limits
Hello to all. I am thankful for all the advice and information that is shared in this forum. I am located in GA and my insurance at present covers only a 400 air-mile radius from my address. Obviously, this is limiting my opportunities to have more loads. My question is what is the rule of thumb one uses in determining how much insurance is a feasible amount to carry. 400, 500, 600 or unlimited? Does anyone have advise in this issue. Thanks in advance
Is everybody slow?
Definitely not as busy as I was last year at this time. Even my direct customers are not calling as much. Seems like any loads off the boards aren't even worth starting the truck for.

Hope things start to turn around in the near future
Fuel Cards
I use Amex gold business cc. It's open meaning no preset spending limit. You pay it off every month so there are no fees. And I get 3% back on fuel. I also use it for most all business related transactions because the annual report is awesome. It breaks down all trans. Into categories like fuel, maintenance, lodging, food. Ect. Perfect for tax time. I use my trip meter on the truck to keep track of miles and mpg in each state for ifta filing. But I still keep receipts. Just in case. The big bill ...
Measurement on Dodge 5500 Hood
Hi guys, would someone mind measuring from the center of the front tire on the ground to the center of their Dodge 550 front hood (The Height from Ground to top of the hood in the center from tire to top of hood.) and post the measurement for me...I am working on some loading concepts for flatbed trailers and will revert back with the ideas here and see what you all think...

Thanx,
Cole

[url=http://gallery.myff.org/gallery/1993850/2012-Dodge-550-4-Wheel-Drive-3264x2448.jpg][img:b6c963c756 ...
Something different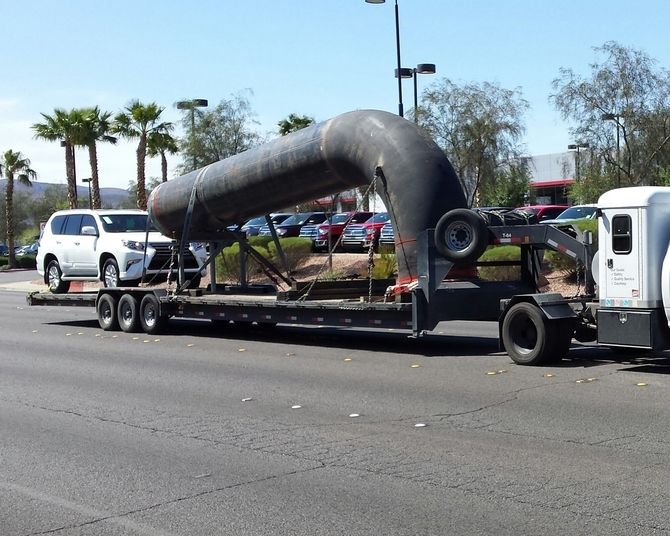 I thought this was an interesting load. Took some rigging to make it work and it held for over a 1,000 miles. They had welders on site and they where willing to listen, end result a good safe load.
2014 Dodge Ram 3500 4x4 Dually truck for sale
Not sure if I am posting in the right place, if not please inform.
Selling my 2014 dodge ram 3500 1 ton long bed 4x4 dually. Cummins 6.7L I6 Turbodiesel, Transmission: 6-Speed Automatic with overdrive. It has 100,000 miles on it. Getting out of the business for new business opportunity that will keep me home every night rather than driving. But any diesel mechanic will tell you these Cummins engines arent even broken in until 150,000 miles. It is a tradesman model. It comes with 5th wheel and g ...
How many 1500lb pallets?
Looking at a new truck and trailer set up and am looking at a Ram 5500 pulling a 36' PJ Deckover. My question is how many 1500lb pallets will I be able to haul and scale ?